In project cargo shipping, the freight forwarder responsible for overseas transportation and the construction site management normally do not communicate directly. This is especially true with shipments from Germany where export project cargo is often sold under DAP or DDP terms. The logistics provider thus gets his order from the shipper, i.e. from the logistics department of the manufacturer and communication about shipping dates etc. normally runs between these two parties.

Yet a direct link between shipping logistics and construction site can be beneficial, because ultimately, the conditions on-site have to be taken into account for all deliveries, in order to efficiently organize industrial new building or expansion projects. Tailoring the shipping process to the requirements and conditions on the construction site can facilitate the building or installation procedure. Such coordination is often time-consuming and a great deal of communication and fine-tuning is necessary. This is where we may come into play.
For DAP shipments, for example, we can actively take into account the needs and possibilities for delivery of goods at the construction site at a very early state. That is, we consider these already when planning the time schedules for the overseas transportation of the goods. The key question here is: "Which parts are needed at what time?". Space for interim storage is usually scarce on construction sites. Our approach here is to tailor the delivery frequency to the construction process and the space available.

To do so we evaluate the local conditions – not only on-site, but also of the surroundings – before we start the planning of the intercontinental transports already. That way, we are able to flexibly organize external solutions for example for interim storage of shipment parts if needed.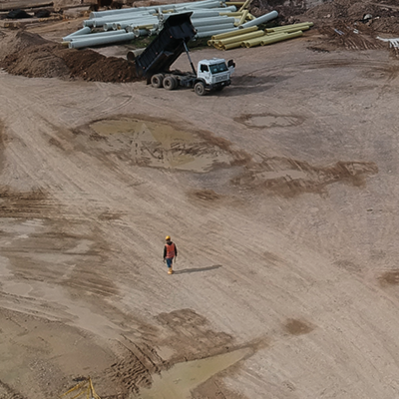 Predictive planning means having a detailed overview about the whole space availability on site.
Our advantage is that as freight forwarder who is handling the intercontinental shipments for the construction project, we get a complete picture of all the shipment parts in the shipments' planning phase already. This allows us to act foresightfully. That is important when it later comes to beneficially placing the shipment's components on-site and finding alternative solutions for different eventualities.

Such planning measures often save time and costs during the actual construction phase. That is also true in regards to logistical services needed on the construction site, such as the organization of local service providers, like rigging companies.
On a construction site there are oftentimes different service providers needed for moving items and placing items where they are needed. Since we have detailed information about the goods and delivery times early on and also keep track of possible postponements we can coordinate the on-site service providers accordingly. That generally streamlines and simplifies the communication involved in such projects.