Break Bulk
Premiere at container port in Northern Vietnam: Karl Gross unloads heavy lift cargo from breakbulk vessel
Recently, the Karl Gross specialists developed a transport solution for a heavy lift cargo piece weighing almost 170 tons. The challenge: the only possible port of discharge was the Lach Huyen International Gateway Port – a container port on the Vietnamese island Cat Hai.
Consignee of the shipment: VinFast – Vietnam's flagship project in automotive production whose production halls are currently under construction. Machinery and factory equipment for the project was partly delivered from China. The specialists of the Karl Gross group tailored an unusual transport solution.
Out-of-the-box-thinking, profound knowledge and power to convince helped our project cargo specialists to realize a transport solution beyond usual – since the only challenge to be overcome was that the port of discharge for the heavy lift piece definitely needed to be the Lach Huyen International Gateway Port.
Cat Hai Island
Cat Hai is an island upstream Haiphong. Just recently in 2018 the Lach Huyen International Gateway Port was opened. "At this port only containers were handled so far. A heavy lift terminal is in planning", George Yan, responsible project coordinator from Karl Gross Shanghai, explains. "Breakbulk cargo is usually handled in Haiphong and trucked to Cat Hai. However, for this heavy cargo this was not an option."
Breakbulk cargo was not yet handled at this port – it was a premiere.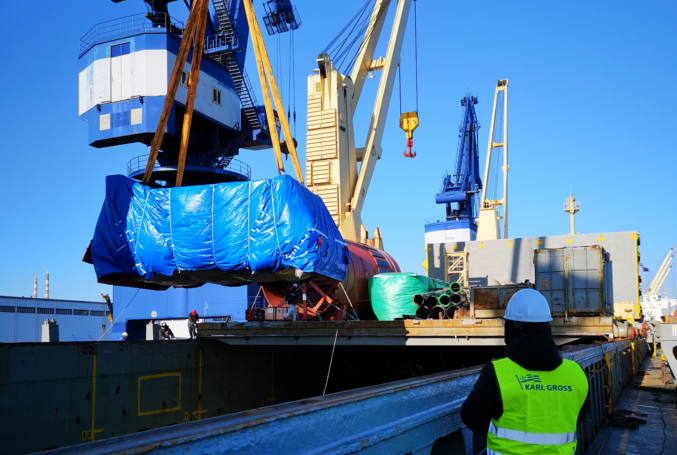 Too heavy for road haulage
The unit weight of the cargo with approximately 170 tons was too heavy for road haulage– especially for crossing a bridge on the way between the port of Haiphong and Cat Hai Island. "Preliminary route studies identified this problem early", George Yan who worked in close cooperation with our Vietnamese team, explains. "There was no way around – the heavy cargo had to be shipped and unloaded at the Lach Huyen port – a premiere for all involved parties."
Our detailed planning convinced all parties involved.
Port authorities and carrier were 'not amused'. "So far only container vessels called at the port. The port authorities as well as carriers were skeptical when we presented our idea", our project specialist explains. After intense discussions and detailed planning, all involved parties could be convinced. Special equipment was not required at the terminal, as the breakbulk vessel had its own crane on-board.
A great success for all involved parties
"Out-of-the-box-thinking and realizing transport shipments beyond the usual – that is what makes project logistics so interesting", George Yan concludes.