High, long, wide – and complicated please! We love challenges.
As a specialist for international project cargo logistics, Karl Gross is of service to the world's leading manufacturer of process and filling technology for the brewing industry and is their partner when shipments of the type "high, long, wide and complicated" need to be taken care of.

These characteristics applied to a large scale shipping project destined to Angola: Karl Gross specialists organized and coordinated the door-to-door transport of several thousand tons of brewery equipment, which had been manufactured in Germany, Spain and China, to the construction site in the hinterland of Luanda.
More than 51 partial shipments
The shipping project consisted of more than 51 partial shipments – ocean and air freight – from Germany, China and Spain. One task was to ship 122 oversized pieces – including 30 tanks from China with a length of up to 19.5 m and unit weights of up to 29.5 t. Also 318 containers – including carrier containers, shipper's own containers and special equipment – and several lots of air freight were to be transported.
Igor Bartuli, Project Coordinator at our office in Hamburg, says: "When planning such large-scale shipping projects, even small details are important. For example, for planning the on-forwarding of the cargo by truck, it is not sufficient to just rely on the official road maps – we get ourselves acquainted with the local conditions and directly check the possibilities on-site." However, before the freight was able to make its first moves on Angolan grounds, this project held some other challenges ready for the Karl Gross project logistics team in Hamburg and Shanghai.
Short planning period – tight time schedule – special requirements
Time is a critical factor for large-scale projects. This was also true for this one. For several consignments ex China, it was not sufficient to realize a part-charter with a suitable break bulk carrier within a short time frame. "The manufacturer of the tanks demanded that we would have to load the cargo at a terminal nearby the plant which carriers generally are reluctant to call", Roger Zheng, General Manager of our Chinese subsidiary, explains. "After in-depth discussions and a joint planning of loading processes, we 'identified a common denominator'. The carrier agreed to load the cargo at the requested terminal. Thanks to the exact pre-planning, loading operations were completed within six hours only." Roger Zheng as well as George Yan, Sales Manager at Karl Gross Logistics (Shanghai) Co., Ltd., were on-site and supervised the loading process.
Thanks to the exact pre-planning, loading operations were completed within a short period of time.

Secondly, a short transition time was needed. "Besides convincing the carrier to call the terminal, we were able to also convince them to call the terminal as last port of call (charter term: last in first out) in order to ship the tanks directly to Luanda and keep the transit time as short as possible", Roger Zheng explains.
Thirdly, regarding timing, we had to take into consideration that around New Year in Angola there is public holidays and correspondingly most terminals are out of service. "To keep the requested delivery date at final destination, we coordinated the shipment in the way that the freight arrived in Luanda immediately after the holidays", Roger Zheng outlines another important factor in the shipment's planning.

Meanwhile, the Karl Gross project team in Hamburg handled the shipment parts originating in Germany and Spain. "For the ocean freight part, we decided to ship the break bulk packages Ro/Ro. The advantages we saw in this type of ocean freight shipping were the high frequency and reliable sailings and short transit times", Igor Bartuli from our project team in Hamburg says.
Personal cargo escort for oversized freight pieces
"The on-carriage often is a challenging topic to be handled in project logistics – especially when we look at countries whose infrastructure is not quite so well developed, so as is the case for Angola", Igor Bartuli says. After the oversized tanks from China arrived at the port of Luanda, Igor Bartuli pesonally supervised the on-carriage of these 'giants' which had to be trucked to the construction site.
In a visit to Angola beforehand, neuragical points were identified that could cause problems during the on-carriage.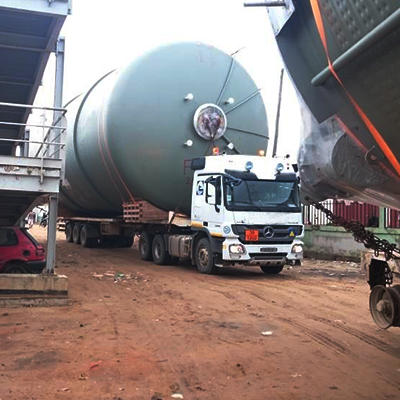 In a visit to Angola beforehand, he checked out the local conditions and particularities. "Thanks to this visit, I gained an overview where critical points could occur and was able to work out solutions together with our local partners in advance. For this we brought together all parties involved for a kick-off meeting. Among other things, it was necessary to discuss the import customs clearance in Angola."

Finding a feasible trucking route for the on-carriage was also an important issue discussed. "The local infrastructure was a real challenge in planning of the on-carriage. The street conditions were miserable for many parts we had to pass – even surrounding the terminal. For trucking the oversized tanks off the port grounds, we therefore made a special arrangement with the local terminal operators and the port authority: all terminals located between our arrival terminal and the port exit were temporarily closed so that we could pass these with our trucks and exit the port at the best road conditions possible. At midnight, the convoy started."
Oversize trucking through Luanda's city center
To reach its final destination, the convoy had to pass several parts of Luanda's city center. "A convoy of trucks carrying largely oversize freight passing through Luanda's citiy center traffic and crowds of pedestrians at dawn – of course, we could only move stop-and-go", Igor Bartuli says. Low hanging power supply lines had to be lifted or removed many times. "The police, the local electricity supplier and a telecommunications team accompanied the heavy load transport to ensure a smooth process."

At a pedestrian bridge the convoy had to pass a "real bottleneck": The bridge had turned out to be impassable in the planning phase of the transport already. "The tanks were too high to pass underneath the bridge. Therefore, we had decided in close coordination with the police, to leave the street with the entire convoy to circumnavigate the 'obstacle' by riding on the sidewalk", Igor Bartuli describes another situation.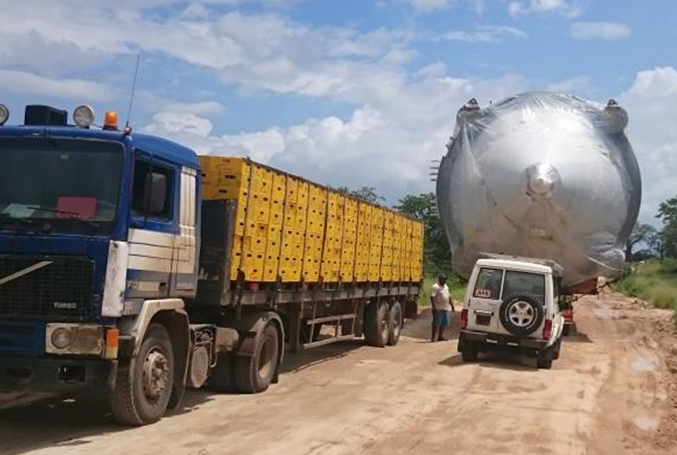 Finish with potholes
Having covered several kilometers distance on a new, well-maintained road, the last section of the route to the construction site once again required special driving skills. The destination was accessible only via a road that had not been repaired after the Angolan Civil War. "The drivers had to cope with potholes of several meters in diameter and up to 50 cm depth. At some points it was simply impossible to go around these so we could move only inch by inch", Igor Bartuli says.

"Although our convoy, with its sensitive, thin-walled and voluminous cargo took up the entire street width, oncoming trucks kept trying to pass us. To master such challenges, it is essential to know which local trucker has the adequate equipment and the know-how to carry out such transport professionally", Igor Bartuli tells us. After 17 hours on the road, the construction site was finally reached.
"All contributing parties have shown a high performance", Igor Bartuli compliments the course of the large-scale project. "By means of constant communication with my colleagues in Hamburg and Shanghai, we have ensured a smooth information flow for our customers. Every person involved, be it in Germany, Spain, China or Angola was always up-to-date."