Strong relationship: Karl Gross and Blue Flag Freight Logistics (S.A.E.)
As an international freight forwarding and logistics company, Karl Gross is present with offices of their own in many parts of the world. In countries where we do not maintain those, we have selected local agents with whom we maintain very close relationships.

In Egypt, Blue Flag Freight Logistics (S.A.E.) is our exclusive agent. Our cooperation is characterized by a special feature: a Karl Gross representative is part of the Blue Flag team in Egypt and permanently present at the Blue Flag head office in 6th of October City.
Blue Flag Freight Logistics – where, who, what?
Blue Flag Freight Logistics have two offices in Egypt: one in 6th of October City – which is a major industrial city in the greater Cairo area – and one in Alexandria where Egypt's largest international seaport is located. Blue Flag was founded in 2015. Although the company is still young, the Blue Flag team members are professionally experienced.




Ocean freight, project cargo logistics, air freight, trucking, warehousing and handling of customs formalities for imports and exports are part of the Blue Flag service range. As they create transport solutions for the automotive industry, for machinery as well as for medical equipment these are commodities they are particularly well-versed in handling.
Blue Flag Freight Logistics is member of the German-Egyptian Chamber of Commerce and of EIFFA (Egyptian International Freight Forwarding Association) which is the official representative of FIATA in Egypt.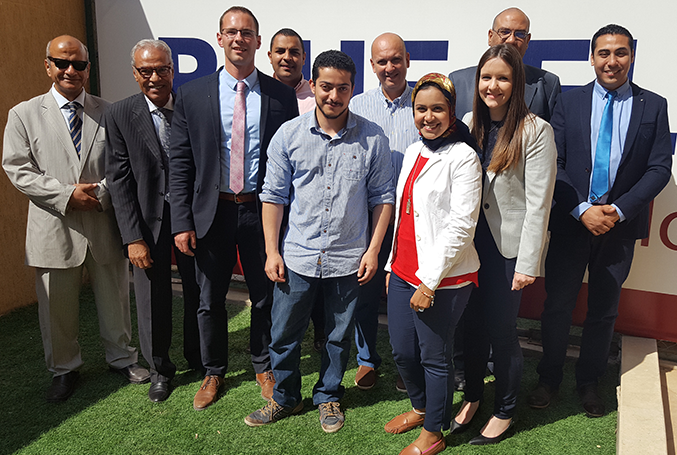 Working hand in hand: Karl Gross and Blue Flag
A Karl Gross representative is permanently working from Blue Flag's head office in 6th of October City: Ms Heike Schaulies. She is well-experienced in the international logistics business – especially in goods traffic between Egypt and Northern Europe. Heike Schaulies is familiar with processes on both ends of the transport chain, as she was part of the Karl Gross Bremen team prior to taking on her function as Karl Gross representative at Blue Flag.

Ms Heike Schaulies also has excellent connections to all the other international Karl Gross office teams. Close personal contact ensures first-hand information and guaranties that all persons involved in a transport chain are always up-to-date.
Who is our representative in Egypt?
Heike Schaulies is "home-grown" in our company. She worked at our office in Bremen, Germany, before she decided to move from the river Weser to the river Nile.

Heike Schaulies holds a degree in Applied Economic Languages and International Management with focus on the Arabic language. Starting point of her career in the logistics business was an internship at our company. Before moving to Egypt in 2014, Heike Schaulies was part of our export team in Bremen.

Heike Schaulies is familiar with logistic processes, cultural aspects and the daily business operations in Germany and in Egypt.

She commands an extensive knowledge of the freight forwarding business and speaks German, English and the Arabic language hence ensuring a comprehensive customer service for Egypt shipments entrusted to our care.